Building a City to End
Chronic Street Homelessness
It will help them off the streets quicker than today's efforts and cost less.
In the news:







Citizens Again is a project to build a city for America's entire chronic homeless population.
By having a single location instead of thousands of shelters across the country, the City can save billions of tax dollars every year, it will be quicker to implement, and it will provide a better life for the nation's homeless.
THE CRISIS
A Growing and Expensive Crisis
Despite decades of promises made by politicians to end homelessness, the crisis keeps growing and costing taxpayers more every year.
Annual Spending
on Homelessness
$20B
Counting federal + housing
+ state + municipalities
Housing First
Land Needed
4,000 Acres
Based on various current efforts
Housing First
Annual Est. Spending
$6B
Assuming 150k housed @ $40k
"To end the crisis, we need to focus on solving their problems first, instead of the problems they cause society."


Duane Nason
Founder, Citizens Again
"A lot of tragedies happen that cause people to become homeless, and it would be great to have a second chance."

LARGE-SCALE SOLUTION
A City for the Homeless to Become Citizens Again
To create a destination and community they want to live in, the City will have all the amenities of a city with a 150,000 population, along with necessary supportive services specific for the citizens.
By building from the ground up, the City can provide specialized facilities, improve safety and security, streamline operations, and use long-lasting building materials, unlike previous housing programs.
Learn more:
WHO IT'S FOR
For the Most in Need
The chronic street homeless are the most resource-intensive and costly segment of the homeless population, so they will be the primary population. The City will also help others who need assistance with preventing and leaving homelessness.
BEYOND HOUSING
A Complete City for a Complete Solution
It will be a city they'll want to live in, a community they'll want to be part of, and for those that desire, an opportunity to gain life skills to integrate back into society.
Healthcare
Hospital
Dental and Vision Services
Mental Health
Entertainment & Activities
Movie Theatre
Bowling Alley
Sports Courts
Various Facilities
Hotel for visiting family
Dog park and kennel
Perimeter staff housing
Reentry Preparation
Job Training
GED certificates
Housing & Job Placement
ECONOMICALLY FEASIBLE
Building 1 Location, Instead of 4,000,
Makes All This Possible
By building a single location for a large population, economies of scale can be achieved allowing for benefits no other effort can offer.
QUICKER

House 150,000 in 11 years; not 200
The Government's Housing First program works. But it will take 200 years to build enough housing. With Citizens Again, it will take 11 years.
CHEAPER

Save Billions for Taxpayers
Unlike Housing First, the City will be built outside the urban core. This will save billions in construction costs. Email for more information.
BETTER

Break the Cycle
The City can cost-effectively provide more services, job training, and counselors to help citizens become self-sufficient to exit homelessness.
Redefining Humanity
A Place to Thrive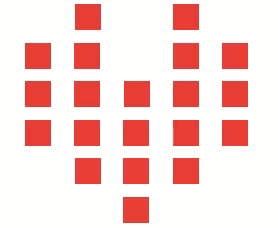 Citizens Again has uniquely identified a deeper understanding of what's needed for people to thrive, not just survive. It goes way beyond today's humanity minimums of shelter, clothes, and food. It's called the 20 Building Blocks of Humanity, and it will encompass every aspect of service for the City.
FUNDING
Let's Start the Process
A variety of funding sources will be used to create and run the City, starting with crowdfunding to create the documents and research reports necessary to obtain next-level funding.

Crowdfunding

Philanthropists

Private Equity

Government
PLANNING FOR 1,000 YEARS
Comprehensive Master Plan
The City is a long-term solution and will be designed and built as such.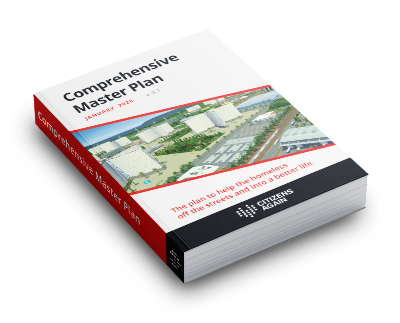 All aspects of the City, including land use, buildings, logistics, processes, innovations, citizen life, community development, and much more, are documented in the Comprehensive Master Plan.
It's a highly detailed plan with over 2 years in the making and is still a work in progress with over 700 pages (this website has the equivalent of 40 book pages of content).
Join the newsletter to be notified when it's made public.
Get notified of company news, project updates, upcoming events, and more.